Get away from it all for as little as £75 per night in our cool and comfortable campervan hire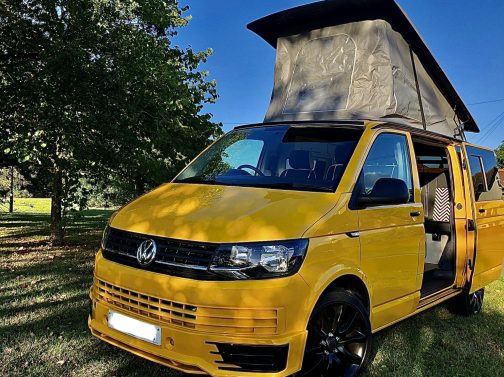 Juiced Campers – Campervan hire Essex
Juiced Campers is a campervan hire company started by a family of fun-loving explorers and lifelong campers. Growing up in London was exciting but there was nothing more rewarding than escaping the hustle and bustle of city, for a weekend exploring the countryside.  We toured around the UK as a family making fantastic memories, having a wonderful time and never looked back!  We invite you to make your own memories with Juiced Campers,  the coolest VW campervan hire in Essex.
Experience the freedom, fun and good times in your own Luxury VW Campervan equipped with everything you need to take yourself off grid for a few days …or weeks, including Air-conditioning, pop top roof and an onboard gas hob and sink. Our VW T5 Campervan is easy to drive and can accommodate a family of 4 with a Small Double bed on the ground floor and room for 2 up top, both with super comfy Memory foam mattresses and full blackout blinds throughout. Gas central Heating and a thermal pop top wrap will guarantee to keep you toasty all throughout the year while the 50 litre fridge will keep the drinks cold!
Based at Junction 28 on the M25, right by the A12, we are perfectly located  to start your camervan journey and "get out of town!".  We provide free off-street parking for your car, and can arrange collection from most London airports on longer trips if required. Delivery to your home can also be arranged on request for a small fee.
Fully Comprehensive Insurance & roadside assistance is already included in the hire price, so the only thing you need to worry about is where you are going to explore next!
Ready for your adventure to start? Click below to find campervan hire availability and rates.
Fabulous holiday and fantastic experience renting from Ed- don't hesitate, book it already! We spent a week driving around 1,100 miles with our two little ones (ages 2&5), heading into Scotland. We had never rented a campervan before but are so glad we did. Ed was very responsive to our queries, both in the lead up to the rental and with the inevitable questions that arose while touring. The heater in the van made for cosy nights during the cold October UK weather. Can't say enough positive about it 🙂     October 2019

A super cool camper, I had it for a month and had a brilliant time, any problems and Edward was at the end of the phone. Would highly recommend this orange boogie bus, a really great conversion. Thanks, so much

Had a fantastic few days in the bright orange van 🎃. Ed was extremely helpful and made the whole hiring process really easy. Would highly recommend!

We decided to have a little staycation this year so thought taking out a Juiced Camper Van would be a lot of fun. We certainly weren't disappointed. It's immaculately presented, and all available space has been cleverly maximized. The van itself drives like a dream and we loved the sense of adventure it gave us. The owners themselves were highly professional and very easy to deal with. We definitely recommend a stay in a Juiced Camper and can't wait to book in our next trip.

Van looks brand new. It's immaculate inside and is great to drive. Also, really easy to park, and it certainly stands out in a crowd 🙂 Whole van experience was great fun and I would highly recommend it. Owners were great to deal with too. Do it!!

We had a great trip down to Devon in the bright orange camper - it was perfect there and back, and all the facilities were great! We'd happily recommend getting away for a few nights in it!